( 10:48 PM ) Miss Marisol
An Ongoing List of Things About The Woman Behind,Miss Hag.

It is purely self serving and I don't expect anyone to read it.

1.)This is how I see the end of my life.













2.) My boyfriend's deejay name is Grand King Automatic. He has beautiful eyes.


3.) I was born in Portsmouth, New Hampshire at the Naval Shipyard.
4.) I have no desire to be married or have a wedding. But, if I was given this ring, I would take it. It was created by Mimi So who makes beautiful jewelry. This particular ring has a black diamond center. Black like my heart.


5.) Post-Its make me happy.
6.) In my alternate reality life, I am a parfumeur. I have an exquisite laboratory on the top floor of a Manhattan highrise. The lab has a greenhouse with exquisite floral specimens and rows and rows of Erlenmyer flasks and glass pipettes. My assistants and I discuss base notes as we sip chilled cordials.


7.) The year 1975 had the lowest birth rate since the Depression. People born in this year are rare and precious gems in the universe. This would include myself, Patrick, Betsey, Dennis, Drew Barrymore, Lauryn Hill, Angelina Jolie, Kate Winslet, David Beckham , Tiger Woods and both Andre 3000 and Big Boi.
8.) Guilty pleasures: Rush & Malloy gossip section in Daily News, foofy martinis, Kelly Clarkson, anything with Fluff or marshmallow cream of any kind.
9.) I like how I look in sepia.


10.) Every cat I have owned or plan to own has been/will be named after characters in Jitterbug Perfume by Tom Robbins.
11.) I used to hate cats.


12.) When I first moved to New York City, I lived in Coney Island. One could see the Parachute Jump from my bedroom window. I later learned that my father rode on this ride when he was stationed at the Brooklyn Naval base in the late 1960's.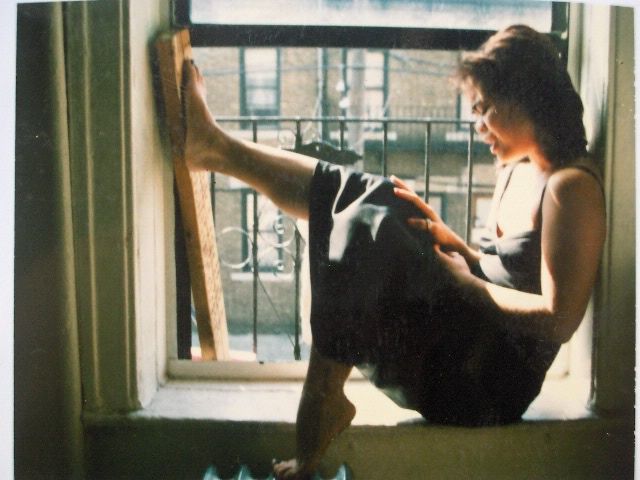 13.) I moved to New York City to be a singer. One record exec who, at the time, was looking to discover the first Asian-American pop diva told me I was too short to be a diva.
14.) I am the youngest of four children.
15.) My sister is six years older and she was born on July 4th.
16.) My brothers are four years older and the year they were born, their birthday fell on Easter Sunday.
17.) I was supposed to be born on Christmas.
18.) I came out 6 days early. I am contrary that way.
19.) My birthday is exactly 9 months after my mother's birthday. This leads me to believe my parents got it on in a celebratory manner.
20.) I was conceived in Honolulu, Hawaii.
21.) When my mother was 8 months pregnant with me, my dad got transferred from the Naval base in Honolulu to the base in Portsmouth, New Hampshire.
22.) Because late pregnancy women are not supposed to fly, my parents drove from California to Maine when she was weeks away from popping me out.
23.) I think this is why I have such wanderlust.
24.) I went to Kalamazoo College in Michigan.
25.) I chose this school based on a three sentence blurb I read in Sassy Magazine.

26.) The first time I flew in a plane, I was on my way to freshmen orientation at "K." (That is how we refer to our alma mater.)
27.) I once dated a magician.
28.) I did the Minneapolis - Chicago AIDS ride in 1998.
29.) My favorite colors are: turquoise, purple, pink, red, white, silver, jade and black. I also like the combination of brown, light blue and orange.
30.) I am not afraid of color.
31.) I am afraid of the dark. Or rather, being alone in a very dark room.
32.) I only have one dimple and it is unusually deep.
33.) Most of my joints are hyperextended.
34.) My bestest friends sometimes call me "Chica."
35.) As a child, I used to daydream about buying a junkie car and driving to every state in the country in alphabetical order.
33.) My goals as a writer currently are to be invited to be interviewed by Leonard Lopate on NPR and to overhear someone at a cocktail party discussing something I wrote.


34.) I have been monogamous for almost 6 years.
35.) Monogamy is overrated.
36.) When I was in college, I thought I wanted to act.
37.) I no longer enjoy performing. I don't like people looking at me.
38.) I do, however, love to be photographed and recorded.
39.) When I die, I hope to be cremated.
40.) When Patrick and I did mushrooms once, I became very determined to go to Spain that night because I had plane tickets for two weeks later.
41.) I said I would go to the airport and wait.
42.) In college, I was busted for marijuana possession and had to go before the Student Commission.
43.) I was a member of the Student Commission and sold pot to two other students on the board.
44.) I live in Manhattan.
45.) I am a Sagittarius.
46.) My mother had me tested for psychic ability potential at the Edgar Cayce Institute when I was 11.
47.) When I was 5, my mother also petitioned the school board to let me skip elementary school.
48.) The testing placed me at third grade level, but they were afraid I wouldn't make friends.
49.) They let me skip kindergarten and take third grade reading classes.
50.) I stipped using my first name in 1994.
51.) I had a crush on Mackenzie Astin from "The Facts of Life" when I was young.
52.) The summer before my junior year of high school, I rented all of the movies I could find with Winona Ryder in them and watched them continuously.
53.) I know all the words to Heathers.

54.) I have never had the chicken pox.
55.) My father grew up on an island that is only accessible by private plane or ferry through shark infested waters.
56.) Jack Lemmon was my great uncle.
57.) My full name means "A Sorrowful Song of the Rose."
58.) No one has ever described me as a "waif."
59.) I love magazines.
60.) I can balance spoons on both cheeks and my nose while doing the tree pose from yoga.
61.) Yoga makes me more tense.
62.) I meditated every week when I lived in Key West.
63.) I have a very quick temper.
64.) My boyfriend's shrink thinks I need therapy.
65.) We had an intervention for one of my best friends.
66.) We had the intervention at a bar.
67.) A majority of the people in my closest circle are gay men.
68.) Two of the men I have dated in my life went to hike the Appalachian Trail after I broke up with them.
69.) My father calls me "Baby Girl."
70.) One of my brothers is a pilot.
71.) My brothers helped me write my first song.
72.) It was called, "Let Me Be."
73.) I participated in Hands Across America by myself in my backyard.
74.) I was a vegetarian for thirteen years.
75.) My family still thinks I am a vegetarian.
76.) I am ashamed that I have a standard Starbucks order.
77.) It is Triple Shot Grande Soy Latte.
78.) I am currently writing my first screenplay.
79.) I have extremely negative (almost violent) feelings about Key Lime Pie.
80.) When I see people making out in public, I immediately assume they are not in love.
81.) Everyday between 6 and 7 a.m., I get the hiccups.
82.) I have never been to Disneyworld or Land. #
---


More than you ever wanted to know about Miss Hag.